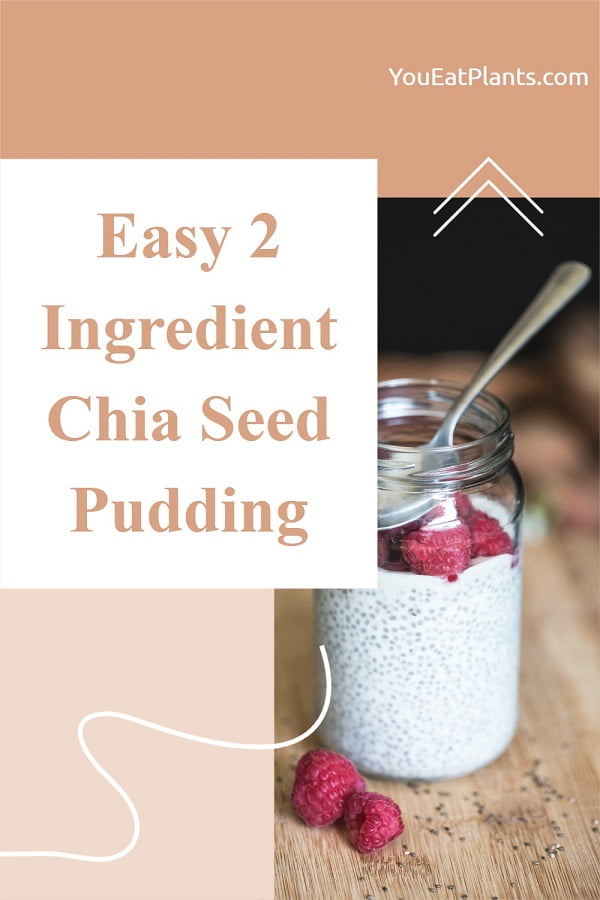 FREE Guide - Add Up to 13 Years to Your Life Or More!
Get my free guide on how I've been eating for over 5 years, which science is showing can add a decade or more to your life, prevent disease & more!
Chia seed pudding is incredibly easy to make, especially when you use this very easy two-ingredient chia seed pudding recipe.
This recipe is best for when you are looking for a chia pudding that has a minimal amount of calories or will be the simplest for you to make.  Also, this might be the best chia seed pudding recipe for you depending on what ingredients you have in your house.
(Find more of our chia seed recipes at Chia Seed Recipes)
Although there might be some slightly tastier chia pudding recipes with more ingredients, I'll show you how you can possibly get the same effect by using these two simple ingredients instead.
A lot of plant-based milk will come with sweeteners (sugar) and possibly other flavorings already added in.  If that's the case then you won't want to use a chia pudding recipe that adds sugar or flavor.
Let's jump in!
Chia Seed Pudding Benefits
Chia pudding is a great, healthy, and easy snack, breakfast, or dessert you can make.  The great thing about chia seed pudding is that it is great tasting, but still good for you at the same time.
It's good for you because chia seeds are very healthy and nutritious for you.  They provide tons of fiber, antioxidants, calcium, Omega-3 fats, and even protein.  Chia seeds can even be good for weight loss.  (See Chia Seeds for Weight Loss)
https://www.youtube.com/watch?v=_GOM_5vgZxY
Plant-based milk can also be a nutritious food for you.  I especially like soy milk, because soy comes with tons of health benefits.  Plus many plant-based kinds of milk have vitamins and minerals added to them as well.
Chia Pudding Ratio
A good ratio for chia pudding is 1:4, or 1 tablespoon for every 4 tablespoons or 1/4 cup of milk.  If you would like a thicker chia pudding then you can lower the ratio to 1:3 or so by either increasing the amount of chia seeds to 1.5 or 2 tablespoons or decreasing the amount of milk to 1/5 a cup or less.
You can also make the chia pudding thinner by increasing the ratio to 1:5 or 1:6.  You can do this by increasing the amount of milk to 5 or 6 tablespoons for every tablespoon of chia seeds.
Chia Seed Pudding Recipe
Let's look at the chia seed pudding with milk recipe that only uses two ingredients!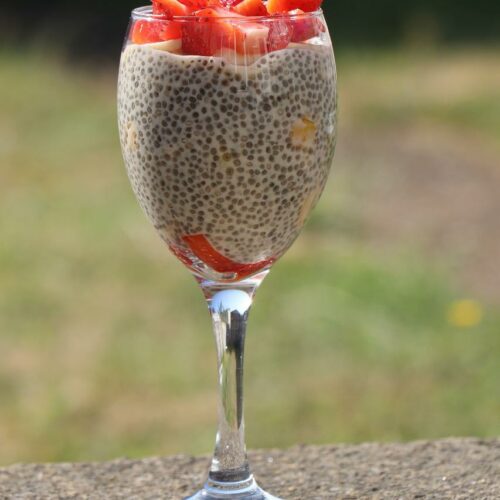 Easy 2 Ingredient Chia Seed Pudding
This is a super easy chia pudding recipe if you want minimal prep or you are looking to cut down on as many calories as possible. This is also the perfect recipe if your plant-based milk already has sugar added to it.
Equipment
1 Mug, Bowl or Mason Jar

Spoon
Ingredients  
4

Tbsp

Chia Seeds

1

Cup

Plant-based Milk

You can use coconut, soy, almond, or other plant-based or non-dairy milk. Coconut milk will give a creamier texture. Also, if you want sweeter, then you can use a plant-based milk with added sugar. If you are going for fewer calories or a healthier option, then go for unsweetened milk.
Optional
1

Tbsp

Fruit

You can add optional fruit
Instructions 
Add the chia seeds to a mug, bowl, or mason jar.

Pour the milk into the container over the chia seeds.

Mix the chia seeds into the milk by stirring with a spoon. If you decided to use a mason jar or other container with a lid, you can put the lid on instead and shake the container to mix.

Stir again with the spoon, or shake if you are using a jar with a lid.

Cover with plastic wrap or a lid and place the container in the refrigerator.

Allow mixture to sit for at least 2 hours before eating. If possible, leave overnight for the best results.

(Optional) You can add fruit of your choice mixed in or on top when serving.
Notes
You can use any plant-based milk that you like, including coconut milk, almond milk, soy milk, cashew milk, or any other.  Coconut will give the thickest and creamiest texture (since it's the thickest milk).
If you want a healthier option with fewer calories and sugar, then you can use a plant-based milk that has no added sugar (unsweetened).  If you want some extra flavor and don't mind the extra calories, then you can use sweetened milk instead.  Also, some plant-based milks have flavors added to them such as vanilla, which can also add flavor to the chia pudding, without having to add any more ingredients.
An optional touch is to add fruit on top or mixed in when it's being served.
Common Questions
Do you have to soak chia seeds for pudding?
You do not have to soak chia seeds for pudding.  The act of making chia pudding and adding the milk to the chia seeds will soak the chia seeds in the process.  You do not have to soak the chia seeds first.
Is chia pudding actually good for you?
Chia pudding can be good for you.  It contains chia seeds which are very healthy and nutritious.  And if you use a plant-based milk, these are also healthy for you, especially those with no added sugars or chemicals.  See more at Is Chia Pudding Good For You?
Do chia seeds make you poop?
Chia seeds do help you to poop.  This is because they have a high amount of fiber, and fiber is great for helping you to poop and use the bathroom regularly.