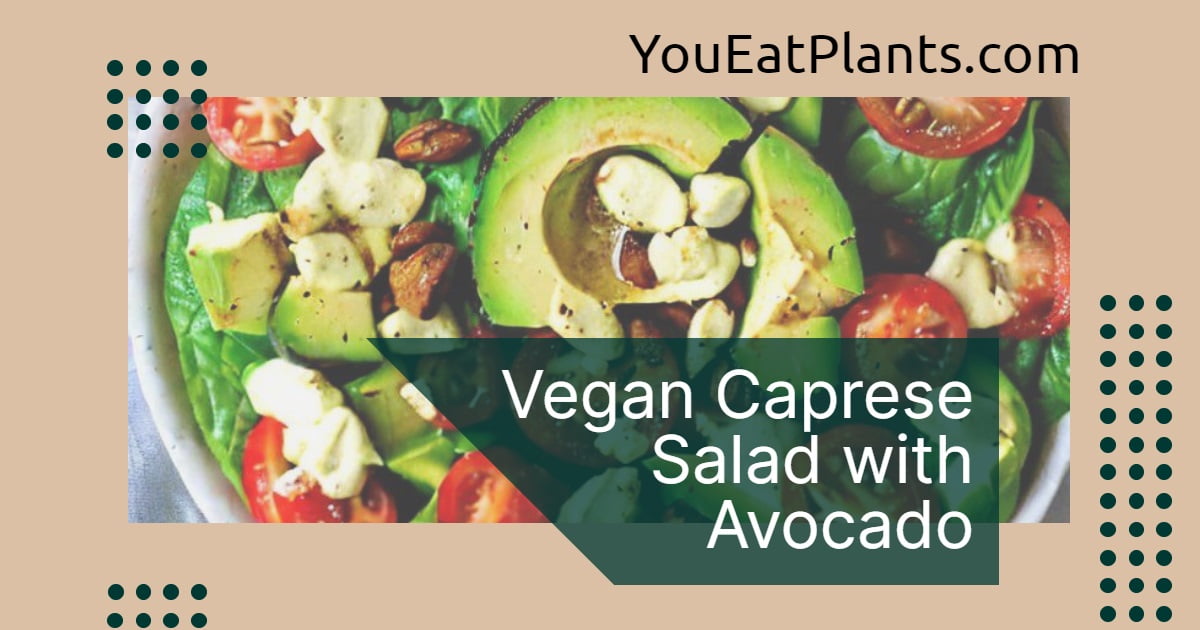 Vegan Caprese salad is a refreshing and flavorful twist on the classic Italian salad, made with ripe tomatoes, creamy avocado, and vegan mozzarella cheese. The addition of avocado adds a rich and buttery texture to the salad, making it a satisfying and satisfying meal. This salad is perfect for a light lunch or as a side dish at a summer gathering.
Vegan Caprese salad with avocado is a delicious and healthy plant-based twist on the classic Italian salad. While this recipe is already vegan-friendly, the addition of avocado takes this salad to the next level, adding a rich and creamy texture that perfectly complements the tomatoes and basil.
One of the best things about Vegan Caprese salad with avocado is how easy it is to prepare. All you need is a few fresh ingredients and a few minutes of your time. To make this salad, start by slicing one large ripe tomato and half a large ripe avocado. Place the slices on a large plate or platter, and top with slices or shreds of vegan mozzarella cheese. You can find vegan mozzarella at most health food stores or online, or you can make your own using a recipe that calls for coconut oil and almond milk.
Next, scatter a few fresh basil leaves over the top of the salad. Basil is an essential ingredient in traditional Caprese salad, and its bright and refreshing flavor pairs perfectly with the rich and creamy avocado and the sweet and juicy tomatoes. If you have a basil plant in your garden, you can simply snip off a few leaves and use them fresh. If you don't have access to fresh basil, you can use dried basil instead, although the flavor won't be quite as vibrant.
Once you have all of your ingredients prepared, it's time to dress the salad. In a small bowl, whisk together 1 tablespoon of olive oil and 1 tablespoon of balsamic vinegar. Drizzle this mixture over the top of the salad, using a spoon or a small drizzle bottle to evenly distribute it. You can also add a pinch of salt and pepper to taste.
With the salad fully assembled, all that's left to do is serve and enjoy! Vegan Caprese salad with avocado is a perfect light lunch or side dish for a summer barbecue, and it pairs well with a variety of other plant-based dishes. You can serve it as is, or you can add a few additional ingredients to give it some extra flavor and texture. For example, you might try adding sliced red onions, roasted cherry tomatoes, or marinated tofu or tempeh for a protein boost.
One of the great things about Vegan Caprese salad with avocado is that it's suitable for a wide range of dietary needs. In addition to being vegan, it's also gluten-free, nut-free, and soy-free, making it a safe and tasty option for people with food allergies or sensitivities. It's also a good source of several important nutrients, including fiber, potassium, and vitamin C.
If you're looking for a quick and easy plant-based meal that's both delicious and nutritious, Vegan Caprese salad with avocado is an excellent choice. It's perfect for a light lunch or a summer gathering, and it's sure to be a hit with vegans and non-vegans alike. So why not give it a try and see for yourself just how tasty and satisfying plant-based eating can be?